Press Release 2017
November 5th   2017
Press Release
SOCIETY for HEAD and NECK ANESTHESIA
Seventh Annual Meeting and Dinner Symposium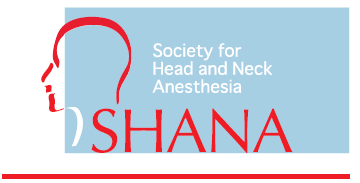 The society had its annual meeting, followed by a dinner symposium on Sunday October 22nd, 2017 at the Boston Park Plaza hotel, Boston, MA. The event was attended by SHANA leadership, members, and representation from the leadership of the Society for Airway Management (SAM), Difficult Airway Society (DAS), and the International Anesthesia Research Society (IARS).
The SHANA President, Dr. Vladimir Nekhendzy, announced the new developments, including the incorporation into The Society for Head and Neck Anesthesia, Inc., efforts towards a more robust platform for the society's Journal of Head and Neck Anesthesia (JoHNA), establishment of $50.00 annual membership fee to support the society's educational mission, and the upcoming revision of bylaws to reflect the expanding structure of the society.
The election resulted in the following slate of leaders:
President: Basem Abdelmalak, MD, FASA, Cleveland Clinic, U.S.A.
President-elect: Tracey Straker, MD, MPH, Montefiore Medical Center, U.S.A.
Secretary: Joshua Atkins, MD, PhD, University of Pennsylvania, U.S.A.
Treasurer: Davide Cattano, MD, PhD, University of Texas at Houston, U.S.A.
The dinner symposium, "Technological Advances in Head and Neck Anesthesia", featured up-to-date presentations on Preoperative Endoscopic Airway Examination (PEAE) by Dr. Vladimir Nekhendzy (Stanford University, U.S.A.), Transnasal Humidified Rapid Insufflation Ventilatory Exchange (THRIVE) by Dr. Anil Patel (The Royal National Throat Nose and Ear Hospital, London, U.K.), Anesthesia for Transoral Robotic Surgery (TORS) by Dr. Joshua Atkins (University of Pennsylvania, U.S.A.), and Extubation in Head and Neck Surgery by Dr. Laura Cavallone (Washington University in St. Louis, U.S.A.).
The meeting and symposium were highly successful, and received a great, positive feedback. The society gratefully acknowledges our meeting exhibitors and sponsors, Karl Storz Endoscopy, Fisher & Paykel, Cook Medical, and Edwards Lifesciences, whose continuing support is essential for advancing SHANA's mission around the world.